Posting to the Newsfeed
Engage your sales employees by posting to the Arcade newsfeed.
Posting to the Newsfeed is quick & simple.
Type your message into the text box at the top and let everyone know "What's on your mind?"Attach a photo by selecting the camera button in the right hand corner.Once your post is ready to go, hit the share button!
MISSING IMAGE
Tagging Colleagues
If you want to make sure a certain colleagues see your newsfeed post, you can tag them. Type '@' and a list of colleagues will appear. Continue typing and the list will filter down to help you select the colleague you want to tag.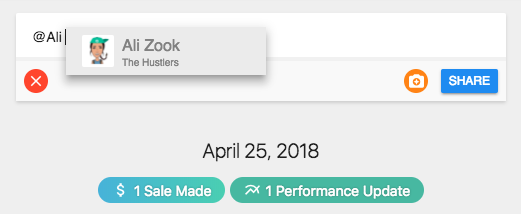 Using #Hashtags
Hashtags are similar to hashtags on Twitter. They help you to group newsfeed posts around a particular topic. When a colleague clicks on the hashtag, they'll see all other activities under the same hashtag. To add a hashtag to your newsfeed post, type '#'. You will then see a list of previously used hashtags. You can select one from the list, or create a new one by typing the hashtag in full.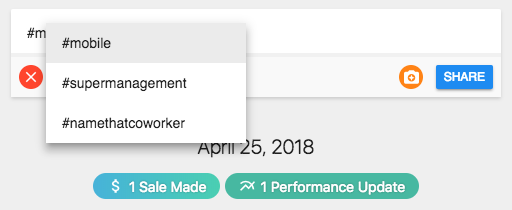 ---
---