Weekly Superstar Game
The Weekly Superstar award is an easy way to recognize your best sales employees.
How To Win
To be in the running for the Weekly Superstar award, you must have received a Recognition Star from a teammate at some point during the week. Everyone who is awarded a Recognition Star during the week will be eligible for the Weekly Superstar Award.
The person with the most Recognition Stars during the week will win the Weekly Superstar Award. If there is no clear winner, a random person will be selected by Arcade to win.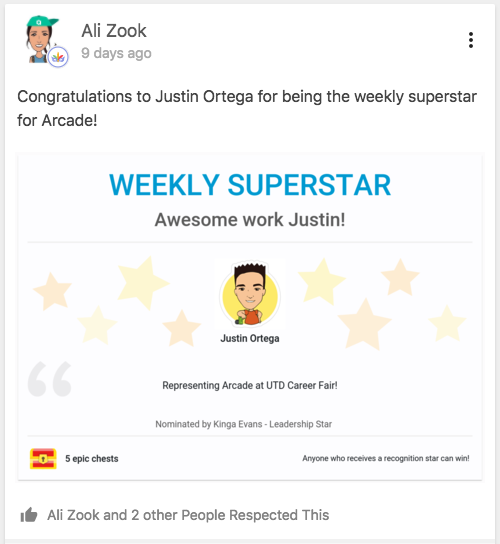 What Does the Superstar Win?
Public Recognition
The Weekly Superstar will be posted on the newsfeed for everyone to celebrate! They'll also be recognized in the Weekly Wrap email that goes out to all company administrators.
XP
The winner will receive a bounty of XP points that will go towards their level in Arcade, which attributes to additional rewards.
Badges
There are rare badges within Arcade that can only be unlocked by winning the Weekly Superstar award.
Chests
The winner of the Weekly Superstar award will win 3 x Level 3 chests, which give you the opportunity to win tokens for redeeming real rewards like movie tickets & Amazon credits!
Weekly Cycle
Arcade runs on a Monday - Sunday cycle based on the timezone set by your admin.
---