Manage Users
Manage Your Users
Note: This is a permission based feature. If you do not have the Award Tokens permission you will not see this option. Contact your Arcade administrator to request this permission to be added to your account.
Use the Manage Users section to manage all participant related aspects of Arcade including inviting new team members, permissions & removing users. This section will display the complete roster of your team members with access to the Arcade platform. The list displays in alphabetical order and offers a search feature if you are looking for a specific individual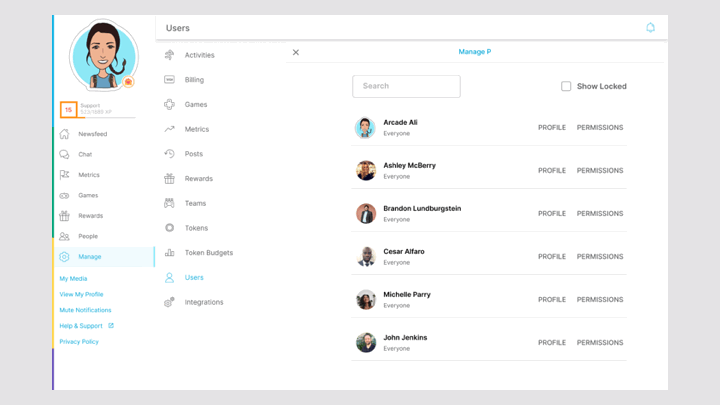 Selecting the Permissions(link) button next to a specific user will allow you adjust the permissions settings.
Edit Profile
The Profile button will open a window that allows you to review the profile details of each user. This section will display the user's Team assignment and Current Token balance that they have available to spend. You are able to revise name spelling, email address & Company Identifier (this field is only relevant if you have an active integration with a 3rd party system). Keep in mind that users have the ability to update their name and email from their profile section as well.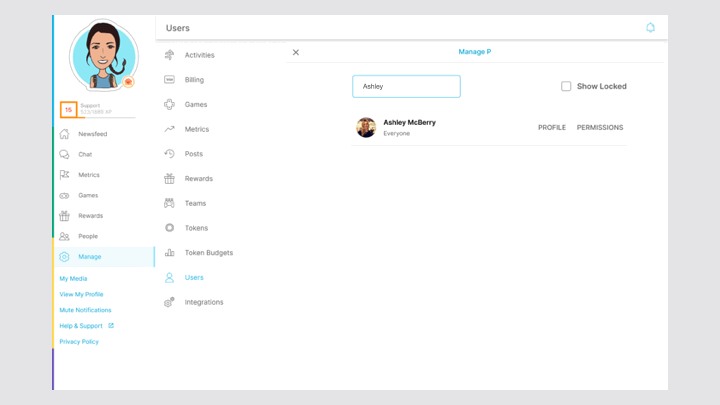 If a user is having trouble with getting logged in, you can use this section to confirm that their email address is spelled correctly as well as trigger a new Welcome email by selecting the Reset Password button.
Use the Invite(LINK) button in the top right to add new team members to Arcade!
Locking a User
To remove a user from Arcade, use the Lock Account button in the Profile section. This will immediately remove the user from Arcade & prevent future access to the platform. Once a user account remains locked for 24 hours, any remaining tokens from their balance will return to the company account.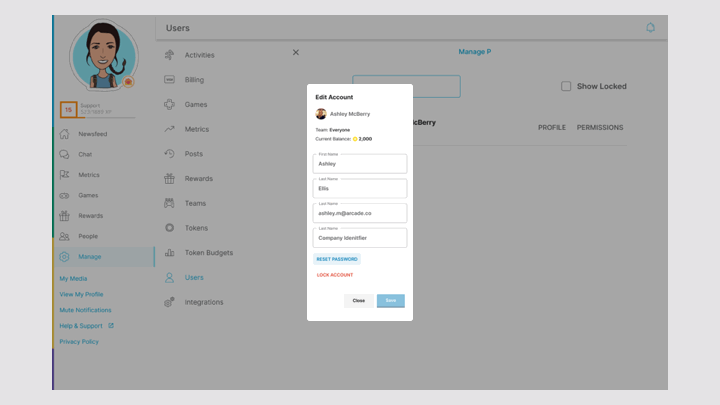 If you need to reinstate a locked account, select the Show Locked option at the top right. This will display locked user accounts in your user list. Select the Profile for the user you would like to reinstate & select Unlock Account. If this user has been locked over 24 hours, they will start with a token balance of 0.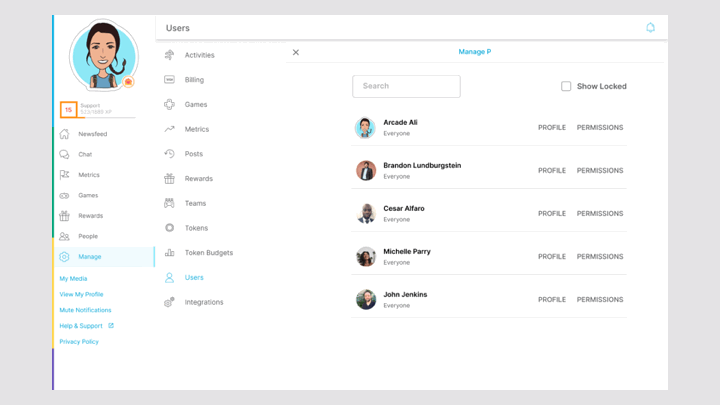 ---
---